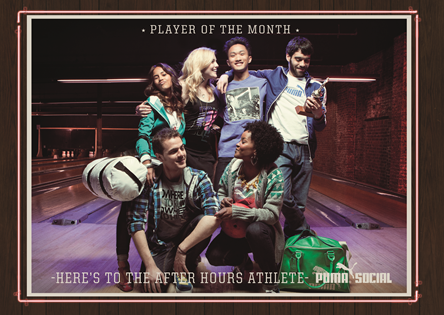 With an interactive twist, PUMA kicks start its digital campaign with public nominations and polling online for new faces to front the 2012 PUMA Social Diary.
PUMA® continues the fun and irreverent 'PUMA Social' campaign into Autumn Winter 2011. The campaign celebrates 'Here's to the After-Hours Athlete' with PUMA Social's Hall of the Infamous social poll in Singapore. The digital campaign brings together and celebrates the movers and shakers in Singapore's social stratosphere with an interactive twist, by engaging the public to nominate their friends, who best represents the social titles to score a place PUMA Social's Hall of the Infamous and to front the 2012 PUMA Social Diary. PUMA Social's Hall of the Infamous will open its doors for nominations today at PUMA's micro-site,
http://www.puma-social.com.sg/
Set on celebrating and crowning the social individuality and personalities of the After-Hours Athlete in Singapore, PUMA is proud to orchestrate the campaign as a digital movement and sets out to create a space where friendly competition is fostered, where the crème de la crème of the Infamous are crowned and anointed.
Follow PUMA Social's Hall of the Infamous social poll in Singapore on its dedicated microsite with live polling updates real time on nominations and polling results over the campaign period starting from November 2011.
Turning the mundane into an interactive campaign, PUMA recognizes the spirit of competition isn't reserved only for the professional athlete. Any title being lived and played out by the After-Hours Athlete such as Ping Pong Hoggers, that can be celebrated with a drink in hand – makes the After-Hours Athlete a good sport.
A full range of autumn winter apparel, footwear and accessories will also be launched to compliment the campaign and will be available in stores from 18th November 2011. The new collection is recommended for, but not limited to, showing off dance moves and hitting the clubs in style.
Do you want to be one of the infamous?
Here're the dates to note:
Nomination Period 15 Nov - 29 Nov
Cooling Period 30 Nov - 4 Dec
The Public Poll 5 Dec - 19 Dec
Announcement of winners 21 Dec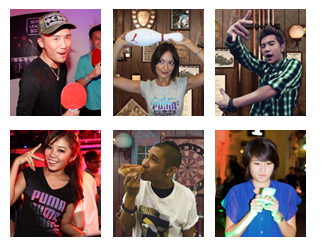 Categories:
1. Shot Downer
2. Compulsive Instagrammer
3. Slo-mo Drinkers
4. Gutter Hugger
5. Ping Pong Hoggers
6. Midnight Texters
7. Hot Dog Addicts
8. 5am Cab Runners
9. Photo Bombers
10. Shuffleholics
11. Always Looking Sober
12. Smooth Talkers
If you are thick skinned enough, you can nominate yourself (or friends) at
http://www.puma-social.com.sg/
, otherwise you can

躊

(pace back and forth,pronounced chou2) in front of the PUMA Social's Style Patrol who will be on the prowl with their polaroid cameras to scout for stylish individuals who best represent the PUMA Social's Hall of the Infamous social titles at selected hotspots island-wide.
Head on down to

躊

at these locations and stand a chance to be spotted,
snapped and rewarded with a personalized PUMA Social polaroid and
a redeemable $10 gift voucher.
26 Nov 8.45pm to 9.45pm Puma Store Vivocity
26 Nov 11pm to 12am St James Powerhouse
26 Nov 12.30am to 1.30am Play
Life is more fun when you're keeping score!