This is a media trip made possible by Scoot and Tourism Queensland.
This was me in Gold Coast some ten years ago.
All we did was do our rounds in theme parks, that's why we went Gold Coast. The best way to see Gold Coast is to self-drive and this family trip was the most memorable because my dad forgot his driving license! That was ok,private transport was arranged for our party of five except we went trekking and we emerged 3 hours early AND hungry, with the transport nowhere in sight. We had to walk hours on the highway to the nearest cafe to get a phone and get a meal.
We could see no end to this hike,this was ANOTHER hike after a 2 hour one in the forest. 14 year old me did not want to walk anymore,so i threw a tantrum by sitting on the roadside refusing to move.
No one cared about me,obviously. In the end,i still had to get up or be left behind.
Redemption beckons! Much thanks to FlyScoot.com and Tourism Queensland, i re-visit Gold Coast and did so much more.
GET WILD & WET
While i absolutely adore theme parks like Movie World & Dream World, i was pleasantly surprised at what fun riding the speed boat gives. It wasn't quite scary despite in this photo,the guy beside me was caught looking at me with disbelief before departure.
That's me second row, second from the left.
I challenged all those sitting in my row to ride it hands-free. The first one to grab the bars loses. It was double the fun being thrown about like dirty laundry. Mark was very chivalrous in using his bigger body to shield me from the water. Getting the golden shower relentlessly makes it triple the fun? Achieving the "wet look" effortlessly, that was the trend 2 years ago.
I am such an adrenaline junkie that initially i was like "bah,no kick. What's so fun? It's just a speed boat."
Turns out,its NOT just a speed boat but a turbo charged boat that cuts very close to tall solid concrete pillars which made me sure we're gonna crash and die, go beneath low hanging branches which made me sure we're gonna get caught and die, perform such sharp turns i was VERY sure we're gonna capsize and die.
More than just a thrill ride, i particularly enjoyed the stories that came with it.
We made pit stops and spot kangaroos and wallabies along the coast (wild dolphins if you're really lucky).
http://paradisejetboating.com.au is also the only one who doesn't live on Sovereign Island yet is able to enter the restricted Sovereign waters.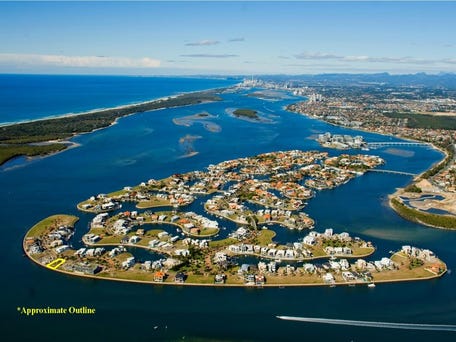 Sovereign Island, a class on its own is an enclave of islands that is a drop of paradise. A prestige waterfront lifestyle for only the very rich. Most curtains of these luxury homes were drawn but from the detailed commentary, i could draw up imaginary visuals. But i didn't really have to because there's Google.
A swimming pool that runs in the living room.
I have actually thought of this before for my dream home!
Damn it, someone else did it before me.
Interior pictures are made available because most of these homes are for rent when the owners are using. Agents managing these homes can even arrange Lamboginis for you as part of the accommodation package.
What was outside the house, we could view. Some of the most beautiful homes i've ever seen.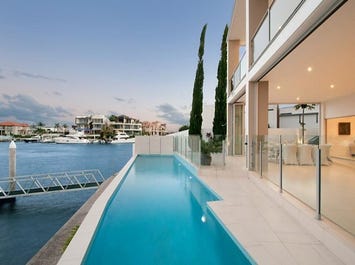 A pool next to a lake.
All homes are next to the waterway. This is the titanium roof home where the roof alone costs 1 million AUD. The entire house is 20 million, with a 30 car garage. It is owned by a doctor who specializes in titanium prosthetics. It literally cost him an arm and an leg!
Then there's one that looks like Tuscany,
and castle, of course that'll be a castle.
Bring a waterproof camera if you plan to take pictures. Paradise Jet Boating will strongly discourage you to bring any loose items though.
I think i look like Uncle Fester.
+61 7 5526 3089

or

07 5526 3190
Morning tours costs AUD $49 while in the afternoon is at $63.
I've always wanted to be an animal trainer but i didn't know how to embark on that career path. At Gold Coast, there're a host of animal experiences, i did it all! Well, almost.
At Sea World, you not only learn about marine life, watch animal performances and sit theme park rides. It's a one-stop spot for a whale of a time. Yes, you can also book yourself on a guaranteed whale sighting tour. Most attractions like the experiential sting ray pool, roller coasters etc. are included in the ticket price which makes it very value for money!
Sitting on an unusual roller coaster where you ride a jet ski was super fun!
You may also train a seal, get behind-the-scenes with a polar bear, do a shark encounter, or experience Antarctic with the penguins!
Look who crept up to shore as soon as i walked with a bucket.
Dolphins in Sea World Gold Coast are born in captivity. Want to know how dolphins sound like? At 0:15 of the video, you'll hear something that sounds like a lizard. That's how dolphins talk to its own kind. At the end, the long noise it makes? That's merely just noise that doesn't mean anything to its species. The trainer asked it to say "thank you".
I've checked. Dolphins don't smell fishy. They may be mammals (just so you don't leave hate comments calling me a bimbo), i thought they would smell like a fish. Also, i thought they would feel rubbery, but how they really feel like under my fingers is indescribable.
Look! My smiling face and slit eyes is like the dolphin!
Do not pet a dolphin on its cheek/ face as that's where their sensitive ears are. Their ears are SO tiny!
It's merely like a pierced ear hole.
With new attractions (e.g. Dino Land) opening this month in Sea World, you'll be in for a treat! The Meet the Dolphin Adventure costs AUD 160.
Then, there is the Currumbin Wildlife Sanctuary. I was super excited that morning because nowhere else in Australia but in Queensland can you carry a koala!
Most places in Australia, they don't let you hold those precious. I remember in Perth, i stood beside a koala on a tree branch! That was the closest i got.
But look at me here!
Currumbin Wildlife is a non-profit sanctuary, it's heartening to know that they only charge AUD 19.95 for a photo with the koala while other animals may be cheaper. They could have easily charged more because everyone would want a koala! The sanctuary also do wildlife conservation work and have a functional animal hospital. Injured koalas have been brought to their sanctuary. Some koalas because of deforestation find themselves on the ground and therefore attacked by dogs. There was even a man who accidentally ran his car into one and the poor koala got trapped in the front grill of his car! Both man and koala were badly traumatized.
So do make a donation when you visit Currumbin. The donation boxes can be found at the WILD LORIKEET FEEDING! These birds are not trained to land on me, neither are they toilet trained.
I'm brave, and they made my double chin appear.
I love the lorikeets! Though th

is is probably what my teacher meant when she scolded the class for being 鸡杂的要死, the lorikeets are really pretty and super friendly with humans.
I feel sorry for this baby gator though, it looks very lifeless. Then again, we wouldn't want a gator lively will we? This baby saltwater gator can grow as massive as 800KG and close to 5 meters long!
Spot the joey!
GET GORGEOUS VIEWS
With a hotair balloon experience AT SUN RISE!
It floats so gently you hardly know you're some 1700 feet above.
Landing was quite an experience. We all toppled over and CRAWLED OUT.
Look at how camera ready one guy is! Popping his head out for the photo despite being right at the back and i didn't even announce my photo taking!
Watch out for the cow dung though!
Old boards used to be made of timbre. Imagine lugging this out to sea!
Someone then had the grand idea of putting a motor into a surf board.
It later got improvised and became a jet ski!
Surf World is just next to Currumbin Wildlife, i'd say its a museum only for surf enthusiasts!
Justin Mitchell School of Paddle & Surf
www.jmsup.com
Just being Wayang about things.
The Mile High Club.
Gold Coast, more than theme parks, famous for fun.
FlyScoot.com offers almost daily flights to Gold Coast and other places at attractive prices!
Have you read my Scoot inaugural experience & learn a trick or two at flying budget?
Are you checking out romantic spots further than Bali but closer to home?
Satisfy that wanderlust the wright way.